Fairlie Seed Company, LLC not only grows ball clover for commercial seed production, but we also grow it on our own ranches for beef and honey production.
Grazer's Select™ ball clover is the only clover grown and developed in the South for the South.
Since 1998, our seed stock has endured extreme cold, drought and wet conditions, as well as intensive grazing by cattle, sheep and goats. This has naturally selected Grazer's Select™ ball clover to have greater tolerance for a hardier and longer-lasting stand.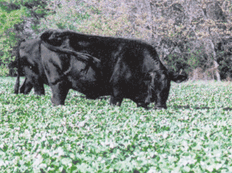 "One of the hardiest and most nutritious legumes is ball clover. It grows from the top to the bottom of the hill."
— Larry Redmon, Extension Forage Specialist
Texas A&M Agricultural Reserach Center

Watch the video below for step-by-step instructions on planting clover.